Overview
Photos
Location
Demographics
Leasing Application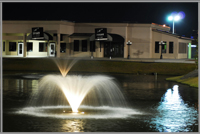 Located in Magnolia Town Centre, this space benefits from its position along Myrtle Beach's Restaurant Row, and proximity to destinations such as Broadway at the Beach and Barefoot Landing. In an area hosting more than 14 million annual visitors, this space further capitalizes on its location which is within miles of one of the areas largest hotel destinations (Kingston Plantation), and most lucrative residential area (Grand Dunes).

At 6,132 square feet, this Turn-Key Restaurant Space provides ample space for not only an upscale dining area and bar, but also a dance floor and entertainment stage. This space includes a full list of
inventory
available for lease, affording the opportunity for immediate start-up, or the foundations for a great upfit.
For more information on the Full Inventory LIst, Space Plan, and Photos, download the
Marketing Package
for this space.
RESTAURANT/BAR SPACE
9714-122/124/126 Hwy. 17 N./ North Kings Hwy.,
Myrtle Beach, SC 29572
Get Directions
Hosting more than 14 million annual visitors and one of the most lucrative residential housing developments around, the area surrounding Magnolia Town Centre produces an exceptional demographic market. For more information, download our full Demographics Package for extensive statistics on the area and its residents.



Click To Download Demographics






Population


1-Mile Radius
Avg. HH Income

3-Mile Radius
Avg. HH Income

5-Mile Radius
Avg. HH Imcome

1,429
$89,322

5,964
$89,321

15,508
$70,338